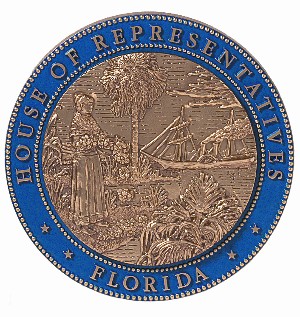 The Entertainment Industry Economic Development Act has unanimously passed the House Economic Development Policy Committee. HB 697, sponsored by Representatives Steve Precourt, Jennifer Carroll, and Kevin Ambler, is an innovative proposal to stimulate job growth within the state of Florida. The tax credit program, also sponsored by Senate President-Designate Mike Haridopolos, levels the playing field for Florida to once again compete in the emerging economic cluster of film and digital media production.
"During these tough economic times, putting incentives in place that will attract new businesses and diversify our economy is sound policy that will have an immediate impact." said Rep. Steve Precourt. "We've sent a strong message today that moving swiftly to lure new businesses to Florida and put people back to work is the Legislature's top priority."
In recent years, Florida's existing film incentive program has been cut dramatically, resulting in a sharp decline in production projects lost to competing states. The bill creates a film and digital media tax credit that has a proven track record of attracting and growing the industry in other states. The production company will only receive the credit after all its payments have been verified. With the investment occurring before a credit is issued, this is a true performance-based credit.
"The positive impact of HB 697 is exponential to the state, local municipalities, businesses and the workforce. Throughout the years, Florida has not had the funds necessary to compete with other states to entice production companies here. Creating an incentive program that cost the state no out of pocket allocation of revenue will create a consistent and reliable tool, putting Florida on a better playing field to compete with other states to bring quality high wage jobs to our state. HB 697 creates a wonderful opportunity for Florida to climb out of this recession," said Prime Cosponsor Rep. Jennifer Carroll.
Other key provisions include an annual cap of $75M on total credits, an increase in the base incentive amount from the 15% to 20% for major film, TV and digital media productions and an increase in the "family friendly" project enhancement from 2% to 5%. Only Florida expenditures such as hiring local residents and contracting with Florida-based companies qualify.
HB 697's companion bill, SB 1430, remains in committee. Both can be followed at the
Florida House website.